Overview
The entire machine is realized with module cards that plug into a backplane called A1 board. These cards have fixed locations on the backplane and cannot be swapped except the memory modules. The modules A4 to E4 are optional and depend on what has been ordered from IBM. For this reason some of the cable connectors on the side of the A1 board may be unused. Standard are Y1, Z2 (only model 1), Z3 and Z4.


Here is a location map of the modules: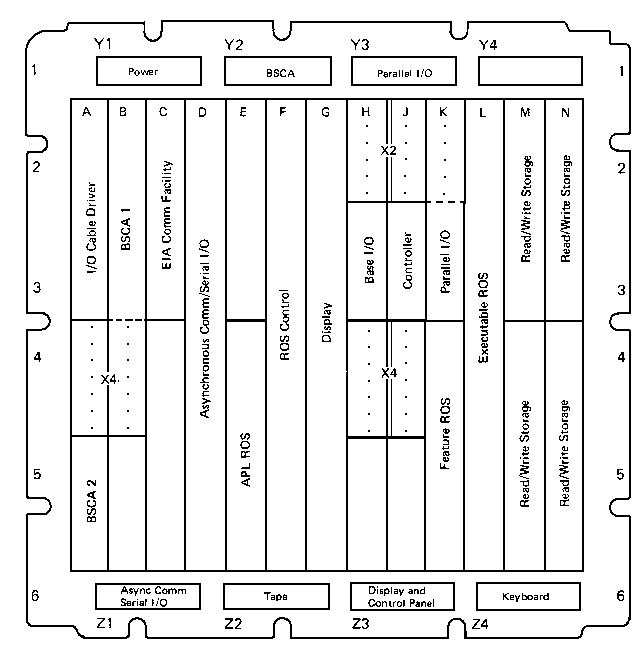 Now some pictures of the modules each in 100 dpi and 300 dpi. The smaller ones can be selected on the map above, too.
Card D2 - Asynchronous communications / Serial I/O

Card F2 - ROS control

Card G2 - Graphics adapter

Card H2 - Base I/O

Card J2 - Controller (Prozessor card)

Card M2 - Read/Write Storage (organized as 8k x 18)

Pinouts
The pinouts of the connectors Y2, Y3 and Z1 are along with the description of the corresponding card.
Pinout Y1 connector
Y1 Cable
Pin
A1 Board
Pin

Name
Y1 Cable
Pin
A1 Board
Pin

Name
D02
A1D11
+5V DC
B02
A1D13
+5V DC
D03
A1E11
+5V DC
B03
A1E13
+5V DC
D04
B1A11
+5V DC
B04
B1A13
+5V DC
D05
B1B11
+5V DC
B05
B1B13
+5V DC
D06
B1C11
GND
B06
B1C13
GND
D07
B1D11
GND
B07
B1D13
GND
D08
B1E11
GND
B08
B1E13
GND
D09
C1A11
GND
B09
C1A13
GND
D10
C1B11
GND
B10
C1B13
(unused)
D11
C1C11
+8,5V DC
B11
C1C13
+8,5V DC
D12
C1D11
+12V DC
B12
C1D13
+12V DC
D13
C1E11
-5V DC
B13
C1E13
-12V DC
Pinout Z2 connector
Z2 Cable
Pin
A1 Board
Pin

Name
Z2 Cable
Pin
A1 Board
Pin

Name
D02
D6E02
-EOT
B02
D6E04
+Tape Clock
D03
E6A02
-Erase Inactive
B03
E6A04
+5V dc
D04
E6B02
-BOT
B04
E6B04
-Forward
D05
E6C02
-Diagnostic Mode
B05
E6C04
-Run
D06
E6D02
-5V dc
B06
E6D04
-Write Enable
D07
E6E02
-LED and Erase OK
B07
E6E04
-Write Data
D08
F6A02
GND
B08
F6A04
GND
D09
F6B02
-Read Data
B09
F6B04
-Channel Select
D10
F6C02
-Read Clock
B10
F6C04
-Channel 0 Erase
D11
F6D02
+12V dc
B11
F6D04
-Channel 1 Erase
D12
F6E02
-Cartridge in Place
B12
F6E04
-Select Magnet Active
D13
G6A02
-12V dc
B13
F6A04
+File Protect
Pinout Z3 connector
Z3 Cable
Pin
A1 Board
Pin

Name
Z3 Cable
Pin
A1 Board
Pin

Name
D02
H6A02
-Reverse Display
B02
H6A04
+Single Instruction Switch (com)
D03
H6B02
+5V dc
B03
H6B04
+APL Switch
D04
H6C02
-Run Switch and Not IPL
B04
H6C04
-Single Instruction Switch (nc)
D05
H6D02
+Single Instruction Switch (no)
B05
H6D04
+In Process LED
D06
H6E02
-Display Reg
B06
H6E04
-Machine Video
D07
J6A02
-Normal 64
B07
J6A04
-I/O Display Off
D08
J6B02
GND
B08
J6B04
GND
D09
J6C02
GND
B09
J6C04
-Machine Check LED
D10
J6D02
+Alarm On
B10
J6D04
-Right Select 32
D11
J6E02
-External Horizontal Drive
B11
J6E04
+12V dc
D12
K6A02
-External Vertical Sync
B12
K6A04
(unused)
D13
K6B02
-Power On Reset Switch
B13
K6B04
+Monitor Video
Pinout Z4 connector
Z4 Cable
Pin
A1 Board
Pin

Name
Z4 Cable
Pin
A1 Board
Pin

Name
D02
L6B02
(unused)
B02
L6B04
(unused)
D03
L6C02
+5V dc
B03
L6C04
(unused)
D04
L6D02
(unused)
B04
L6D04
-Kbd P
D05
L6E02
(unused)
B05
L6E04
-Kbd O
D06
M6A02
-Kbd 1
B06
M6A04
(unused)
D07
M6B02
-Power On Reset
B07
M6B04
-Kbd Strobe
D08
M6C02
GND
B08
M6C04
-Kbd 3
D09
M6D02
+Typamatic
B09
M6D04
-Kbd 4
D10
M6E02
(unused)
B10
M6E04
-Kbd 5
D11
N6A02
-Keyboard Lockout
B11
N6A04
+8,5V dc
D12
N6B02
(unused)
B12
N6B04
-Kbd 7
D13
N6C02
-Kbd 2
B13
N6C04
-Kbd 6