Display Screen
This is the built in 5" monochrome monitor (black&white)
POWER ON/OFF Switch
The power switch
BRIGHTNESS
HELLIGKEIT
The button to control the brightnes of the screen
L32 64 R32 Switch
Because of the tiny screen that can be difficult to read this switch allows to select the left 32 characters (by inserting spaces between each character), all 64 characters or the right 32 ones. This switch also affects an external monitor.
REVERSE DISPLAY Switch
ANZEIGE-UMKEHRUNG
This switch selects between white characters on black background and black characters on white background. An external Monitor is not affected by this switch and always displays text with black background.
BASIC/APL Switch
The preferred language (either APL or BASIC) can be chosen with this switch. The machine has to be restarted in order to actually switch the language.
This switch in only available on machines equipped with both language options. APL only or BASIC only machines don't have this switch.
RESTART Switch
WIEDERANLAUF
An essential switch; today one would call it RESET.
DISPLAY REGISTERS/NORMAL
REGISTER-ANZEIGE/NORMAL
Selects either the register display or normal screen display.
The register display shows the first 512 bytes of RWS where the processor registers can be seen at the top.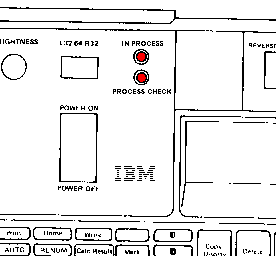 IN PROCESS
IN BETRIEB
Shows that the machine is working with the display blanked (when cycle steals are inhibited).
PROCESS CHECK
RECHNER STOP
This LED lights when a fault (either in software or in hardware) has occured, the processor has stopped. This can happed e.g. on a parity error or on a word access with an odd address.